iWatermark Pro for Windows – Watermarking App
iWatermark is the worlds No. 1 digital watermarking application for Mac, Windows, iPhone, iPad and Android. Stylishly watermark a Copyright on a photo in seconds. iWatermark is made by and for photographers.
iWatermark Pro for Mac and Windows can exchange exported watermarks. As a standalone application it works with Lightroom, Photoshop, Picasa, ACDSee, Cumulus, Portfolio, PhotoStation, Xee, iView, PhotoMechanic and other photo organizers. iWatermark is the best watermarking software for all platforms and in combination with other software.
iWatermark on iPhone/iPad and Android are native apps that work directly with the phone/tablets camera.
iWatermark Pro for Windows is an essential tool for anyone with a digital camera, professionals and beginners.
Scroll down and click the links on the left for more info about iWatermark. Find out why watermarking is a good idea. Learn about the features in each version.

"The beauty of iWatermark is its combination of ease of use and functionality. If you've ever wanted to give watermarking a try, or if you're already doing it and you'd welcome a way to do it quickly and easily, iWatermark is an inexpensive and impressive utility. I've yet to see a better solution than Plum Amazing's iWatermark."
Dan Frakes, Macworld, 4.5 of 5 mice.

"Digitally sign your photos/artwork with iWatermark Pro for Windows to claim, secure and maintain your intellectual property and reputation." – SoftwareLode.com
Type
Icon
Visibility
Apply on
Description
Text
Visible
Photo&
Video
Any text including metadata with settings to change font, size, color, rotation, etc.
Text Arc
Visible
Photo&
Video
Text on a curved path.
Bitmap Graphic
Visible
Photo&
Video
A graphic is usually a transparent .png file like your logo, brand, copyright symbol, etc. To import.
Vector Graphic (Coming for Android)
Visible
Photo&
Video
Use over 5000 built-in vector (SVG's) to display perfect graphics at any size.
Border Graphic (Coming on Android)
Visible
Photo&
Video
A vector border that can be stretched around an image and customized using a variety of settings.
QR Code
Visible
Photo&
Video
A kind of barcode with information like email or url in it's coding.
Signature
Visible
Photo&
Video
Sign, import or scan your signature into a watermark to sign your creations.
Metadata
Invisible
Photo&
Video
Adding information (like your email or url) to the IPTC or XMP part of the photo file.
StegoMark
Invisible
Photo&
Video
StegoMark is our proprietary steganographic method of embedding information like your email or url into the picture data itself.
Resize (Coming for Android)
Visible
Photo
Change the size of a photo. Particularly useful for Instagram
Custom Filters (Coming for Android)
Visible
Photo
Many filters that can be used to stylize a photos look.
"Bottom Line: If you are looking for a way to watermark your graphic material on the web, we recommend iWatermark+."
– Nate Adcock, iPhoneLife Magazine 1/22/15
Features
All Platforms
Native apps for iPhone/iPad, Mac, Windows and Android
11 types of watermarks
Text, graphic, QR, signature, metadata and steganographic.
Compatibility
Works with all cameras, Nikon, Canon, Sony, Smartphones, etc.
Batch
Process Single or batch watermark multiple photos simultaneously.
Metadata Watermarks
Create watermarks using metadata like author, copyright and keywords.
Steganographic Watermarks
Add our proprietary invisible StegoMark watermarks to embed info in a photo
QR Code Watermarks
Create in app QR codes with url, email or other info to use as watermarks.
Text Watermarks
Create text watermarks with different fonts, sizes, colors, angles, etc.
Graphic Watermarks
Create graphic or logo watermarks using transparent graphic files.
Watermark Manager
Keep all your watermarks in one place for you and your business
Signature Watermarks
Use your signature as a watermark just like the famous painters
Multiple Simultaneous Watermarks
Select and apply multiple different watermarks on a photo(s).
Add Metadata
Watermark using your copyright, name, url, email, etc. to photos.
Watermark Drawer
Select one or a number of watermarks from the drawer.
GPS Location Data
Maintain or remove GPS metadata for privacy
Resize Photos
In both the Mac and Win versions photos can be resized.
Fast
Uses GPU, CPU and parallel processing to speed watermarking.
Import & Export

JPEG, PNG, TIFF & RAW

Protect Photos
Utilize many different watermarking techniques to protect your photos
Warn Thieves
A Watermark reminds people that a photo is someones intellectual property
Compatible
with apps like Adobe Lightroom, Photos, Aperture and all other photo browsers
Watermark Cloud
Use PhotoNotary to export, backup and share all your watermarks in the cloud.
Special Effects
Special effects for pre and post processing of photos
Multilingual
Watermark in any language. Localized for many languages
Position
Control Absolute Position
Watermarks can be adjusted by pixels.
Position
Control Relative Position
For same position in batches of photos of different orientations and dimensions.
Share
Share via email, Facebook, Twitter and other social media sites.
Rename
Photo Batches
Set up a workflow for renaming batches of photos automatically.
More Features
Batch watermark entire folders of images at once.
Scale all your images to be the same size.
Creates thumbnails of your watermarked images.
Use text, TIFF or PNG logos for your watermarks
Set the transparency of your watermark.
Rotate, scale, and place your watermark, anywhere on your picture.
Use special effects such as aqua, shadow and/or emboss on your watermark.
Preserve the metadata captured with the image, such as EXIF, IPTC and XMP.
Input and Output your watermarked image into a variety of different image formats.
Less expensive, more efficient, faster and simpler to use then PhotoShop. iWatermark is exclusively designed for watermarking.
Create and use QR codes (like barcodes) as watermarks (Pro and iPhone/iPad only).
Use built in Creative Commons watermarks (Pro only).
Use many watermarks simultaneously (Pro only).
Import/Export/Share watermarks you create (Pro only).
Set location watermark by x,y which insures your watermark appears in the same place no matter what size or resolution the images are.
Too many features to list. Download to try it out.
Why Watermark?
If you share an amazing photo you've taken via Email, Facebook, Instagram, Twitter, etc. it's very likely to go viral then they fly off globally out of your control and without any connection to you as the creator. But digitally sign your work/photos/graphic/artwork using iWatermark with your name, email or url and your photos have a visible and legal connection to you wherever they go.
Build your company brand, by having your company logo on all your images.
Avoid the surprise of seeing your artwork elsewhere on the web or in an ad.
Avoid the conflicts and headaches with plagiarists who claim they didn't know that you created it.
Avoid the costly litigation that can be involved after that.
Avoid intellectual property squabbles.
Examples Of Viral Photos Used Illegally
Why iWatermark is a good idea. Check out these stories of photos used without permission.
Types of Watermarks
Most watermark app can do a text watermark and a few have a graphic watermark. iWatermark takes it a lot farther and has 12 watermark types. Each type serves a different purpose.
Visible vs Invisible Watermarks
Some watermarks are visible and others invisible. Both serve different purposes.
A visible watermark is where you superimpose your logo or signature onto your image.
An invisible watermark is hidden throughout the picture, within the code that generates it, is a recognizable pattern that identifies it as being your artwork.
This technique is usually far more expensive and has two major drawbacks. It almost always reduces the quality of the picture, and it may encourage people to copy your work because it does not appear to be copyrighted. In both cases, a skilled graphic designer intent on using your image, can find ways to remove your watermark at a cost to the quality of the image.
We feel that when you watermark photos it serves 2 purposes.
1. It lets people know this is not just a loose photo avaiable for any use.
2. It can contain your information. Like name, email, site, whatever you want to display so people can contact you.
Official Sponsor of: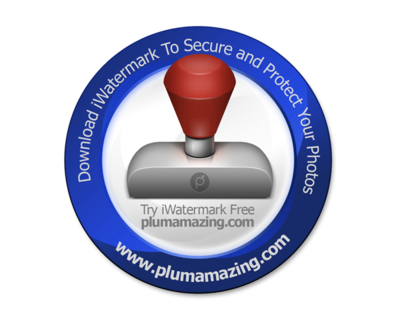 Comparison
Comparison of iWatermark Pro or Mac/Win and iWatermark+ for iPhone/iPad/Android
All versions of iWatermark are written in the native language for that OS. Mac and Win have similar features since they are both desktop systems. The 2 mobile OS versions iOS and Android have similar features to each other.
| | | |
| --- | --- | --- |
| iWatermark Features | On iOS and Android | On Mac and Windows |
| Download | iOS                      Android | Mac                  Windows |
| Maximum Number of Photos | Unlimited (based on memory) | Unlimited (based on memory) |
| Simultaneous Watermarks | Unlimited | Unlimited |
| Speed | 64 bit (Very fast) | 64 bit (Faster) |
| Parallel Processing Aware | Multi-thread uses multiple CPU/GPU's | Multi-thread use multiple CPU/GPU's< |
| AppleScriptable (Mac Only) |  – | Yes, includes scripts and script menu |
| Shell Extension for Win Explorer |  – | Right click to apply watermarks direct. |
| Color Profiles |  – | Uses existing and selectable profiles |
| Output Folder | Uses Available Export Extensions |  folder output settings |
| Input File Types |   | RAW, JPG, PNG, TIFF, GIF, DNG, PSD |
| Output File Types | jpg | jpg, png, tiff, psd, bmp, jpeg 2000, clipb |
| Resizing Photos |   | 6 major options |
| Import Watermarks | Coming | Yes, from Mac or Win version |
| Export Watermarks | Coming | Archive or share to Mac or Win version |
| Edit Watermarks | Advanced (many more features) | Advanced (many more features) |
| Watermark Drawer | Organize, edit, previewing | Organize, edit, lock, previewing, embed |
| Create Watermark Droplet | – | Creates dedicated watermarking app |
| Metadata (XMP, IPTC) | IPTC | XMP and IPTC Extended |
| Add/Remove Metadata | IPTC/XMP/GPS | IPTC/XMP/GPS |
| Embed Metadata in Watermark |  IPTC/XMP/GPS | IPTC/XMP/GPS |
| Metadata Tags as Watermarks | IPTC, Tiff, File Attributes, Exif, GPS | IPTC, Tiff, File Attributes, Exif, GPS |
| Effects | Many | Many |
| Watermark Location | Set by dragging and pinning. | Set by dragging and pinning. |
| Scale Watermark | Actual, horizontal and vertical | Actual, horizontal and vertical |
| Text Watermark Formatting | font, size, color, rotation, transparency, shadow, border | font, size, color, rotation, transparency, shadow, border |
| Background | color, opacity, scale, border, shadow, rotation | color, opacity, scale, border, shadow, rotation |
| Help | Online, contextual and detailed | Online, contextual and detailed |
| QR Codes as Watermarks | Create QR codes use as watermarks | Create QR codes use as watermarks |
| Creative Commons Watermarks | – | Easily adds any CC watermark |
| Quick Look Plugin | – | Displays exported watermark info |
| Works with all Photo Browsers | – | yes |
| iPhoto Plugin | – | Watermark direct in iPhoto |
| Aperture Plugins | – | Watermark direct in Aperture |
| PhotoNotary |  coming | Archive and share watermarks. |
| Price | Free, $1.99 and $3.99 versions iTunes/Google Play | Shareware |
Input Image Formats
RAW
JPEG
TIFF
PNG
Photoshop (Requires Quicktime)
PICT (Macintosh Only)
BMP
GIF
DNG
PSD
Output Image Formats
RAW
JPEG
PNG
PICT (Macintosh Only)
BMP (Windows Only)
TIFF
PSD
JPEG2000
clipboard
More formats supported with Quicktime. Quicktime is pre-installed on all Macs running OS X, and is free to download for both PC and Mac.
---
2.5.23
2019-10-21
- stegomark now maintains original size and DPI with the hidden embedded text.
- registration dialog comes to the front and cannot be hidden by other windows.
- version number added to bottom left corner of main window
2.5.22
2019-09-09
- install messages improved.
- stegomark no longer erases iptc data.
- changing scaling and doing refresh now scales to the correct size.
- change "Created with iWatermark Pro. Register to remove this watermark" with only "Created with iWatermark Pro for Windows"
- if user tries to use anything but jpg in a stegomark error message is now 'Stegomark only accepts JPEG for input and JPEG for output'

Please keep the feedback and suggestions coming. Thanks
2.5.20
2019-07-30
- solves the install/uninstall issue
- other misc improvements
2.5.19
2019-07-05
- progress window shows preview of each photo watermarked.
- changes to add 'heic' and jp2000 formats for output
- solved uninstall issues
- misc ui improvements
- other internal changes
- shell extension improvements
thanks to the users who reported issues with details. it helps. to everyone else if you have an issue please report it. thanks.
2.5.15
2019-03-05
- this is 2.5.15
- new netsparkle to allow check for updates.
- should allow downloading with check for updates and installing.
2.5.13
2019-01-19
- optimization for image processing
- when exporting/sharing batch of watermarked photos only one prompt now.
- added menu for resolution questions
- emboss and engrave is only improved on text watermark. other text type watermarks will get the same improvement soon.
2.5.12
2019-01-08
- lag of opacity control fixed
- ui issues fixed
- prompt for file name should prompt to select folder fixed
- duplicating watermarks now works
- resizing - added 60 DPI option to menu
- stegomark now tries for blank password by default
- stegomark viewer now allows resizing
- input info icon (?) now shows the location of the image currently being previewed
- exporting multiple watermarks now only prompts once (Note: hold shift key  to select multiple watermarks to export or apply), Still to fix: prompt for file name should prompt to select folder
2.5.7
2018-11-28
- right and left arrow keys allow switching photos.
- ui fixes for scaling and dpi issue.
- some items removed from 'file' menu
2.5.5
2018-11-12
- now reports error if no output is set
- defaults are set on initial install
- new feature: left and right arrow key should allow switching pictures.
- EXIF Viewer and Photo Info windows - merged into one window.
- new feature: Rename - add setting menu with same predefined rename as Mac.
- check for updates works
- fixed issue of image with trailing space of folder name
- can now copy metadata from jpg.
2.5.3
2018-10-25
- shell extension for watermarking works
- shell extensions now respects settings set:Output folder, rename, etc.
- can edit imported watermarks
- renaming files issue resolved
- key issue resolved
- gives better feedback on win 10
- many other improvements and optimizations
2.5.1
2018-09-26
- resolved issue with renaming.
- DEL key works correctly.
- dragging works correctly.

please keep the feedback coming on this latest version. thanks
2.5
2018-09-15
- new watermarks, lines, banner, stegomark
- stegomark viewer
- metadata viewer
- now reads and watermarks RAW images
- improved user interface for editing watermarks
- code optimized, misc. bugs fixed,
- updated to .net framework 4.7.1 and added DPI Awareness Code.
- new code signing
- now fully 64 bit
- many changes & improvements not listed

all users please give us your feedback and suggestions on this new version. thanks
2.0.7
2016-03-16
news - we had a newer version which has a better way to add watermarks but does not have all features implemented. this caused questions for some people so we decided to roll back to this older version until those features are added in the new version.

[Fixed] - The "Input Files and Folders" drop area did not recognize tif files

[Fixed] - If you use the context menu to process a tif file you could not open the resulting file in Photoshop, but it would open in Illustrator or Paint
[Fixed] - fixed resizing tab maintains the dpi.
Pad file is now:
http://repository.appvisor.com/info/app-7000fd1b4e47/iWatermark_Pro_for_Windows_pad.xml
2.0.6
2015-11-27
[FIX] A thin line was appearing on the top and left of image (issue resolved)
[FIX] File name updated with integer value started from 1 instead of replacement.
[FIX] User should be able to store image in own defined extension and extension will be available next time.
Pad file is now:
http://repository.appvisor.com/info/app-7000fd1b4e47/iWatermark_Pro_for_Windows_pad.xml
2.0.5
2015-08-27
[MOD] Corporate license enhancements. Allow turning off certain elements.
[FIX] Shows a warning message if screen resolution is less than required resolution.
Pad file is now:
http://repository.appvisor.com/info/app-7000fd1b4e47/iWatermark_Pro_for_Windows_pad.xml