Protect Your Photos With iWatermark Pro 2
iWatermark is the worlds No. 1 digital watermarking application for Mac, Windows, iPhone, iPad and Android. Stylishly watermark a Copyright, Logo, Company Name, Signature and/or Metadata Tag on a photo or batch of photos in seconds. iWatermark is made by and for photographers.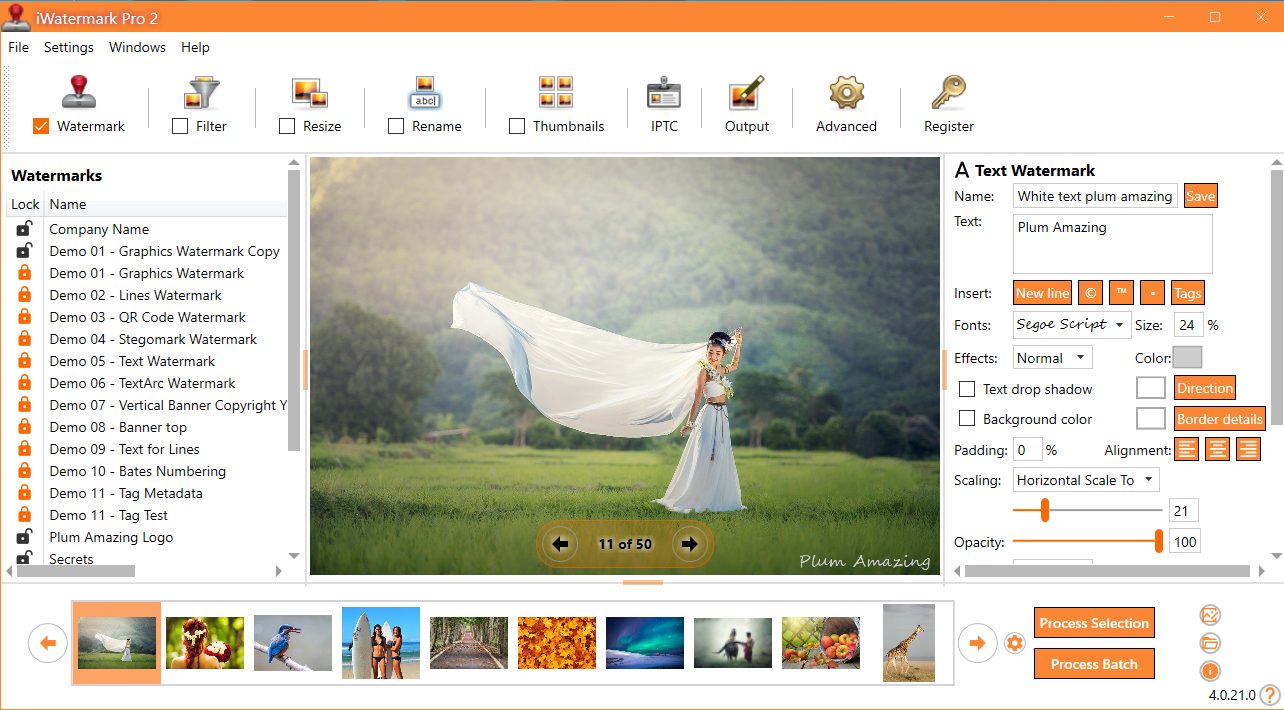 Tap for full size
iWatermark Pro for Mac and Windows can exchange exported watermarks. As a standalone application it works with Lightroom, Photoshop, Picasa, ACDSee, Cumulus, Portfolio, PhotoStation, Xee, PhotoMechanic and other photo organizers. iWatermark is the best watermarking software for all platforms and in combination with other software.
iWatermark on iPhone/iPad and Android are native apps that work directly with the phone/tablets camera.iWatermark is an essential tool for anyone with a digital camera, professionals and beginners.
Scroll down and click the links on the left for more info about iWatermark. Find out why watermarking is a good idea. Learn about the features in each version.
"iWatermark Pro is by far the most feature-packed watermarking software I reviewed, and it has a number of features that I didn't find in any other program. Aside from the ability to handle basic text and image watermarks, there are a number of other extras such as QR code watermarks and even steganographic watermarks, which hide data in plain sight to prevent image thieves from simply cropping out or covering your watermark. You can also integrate with a Dropbox account to save your output watermarked images, which is very useful for quick and automatic sharing with clients."
– Thomas Boldt,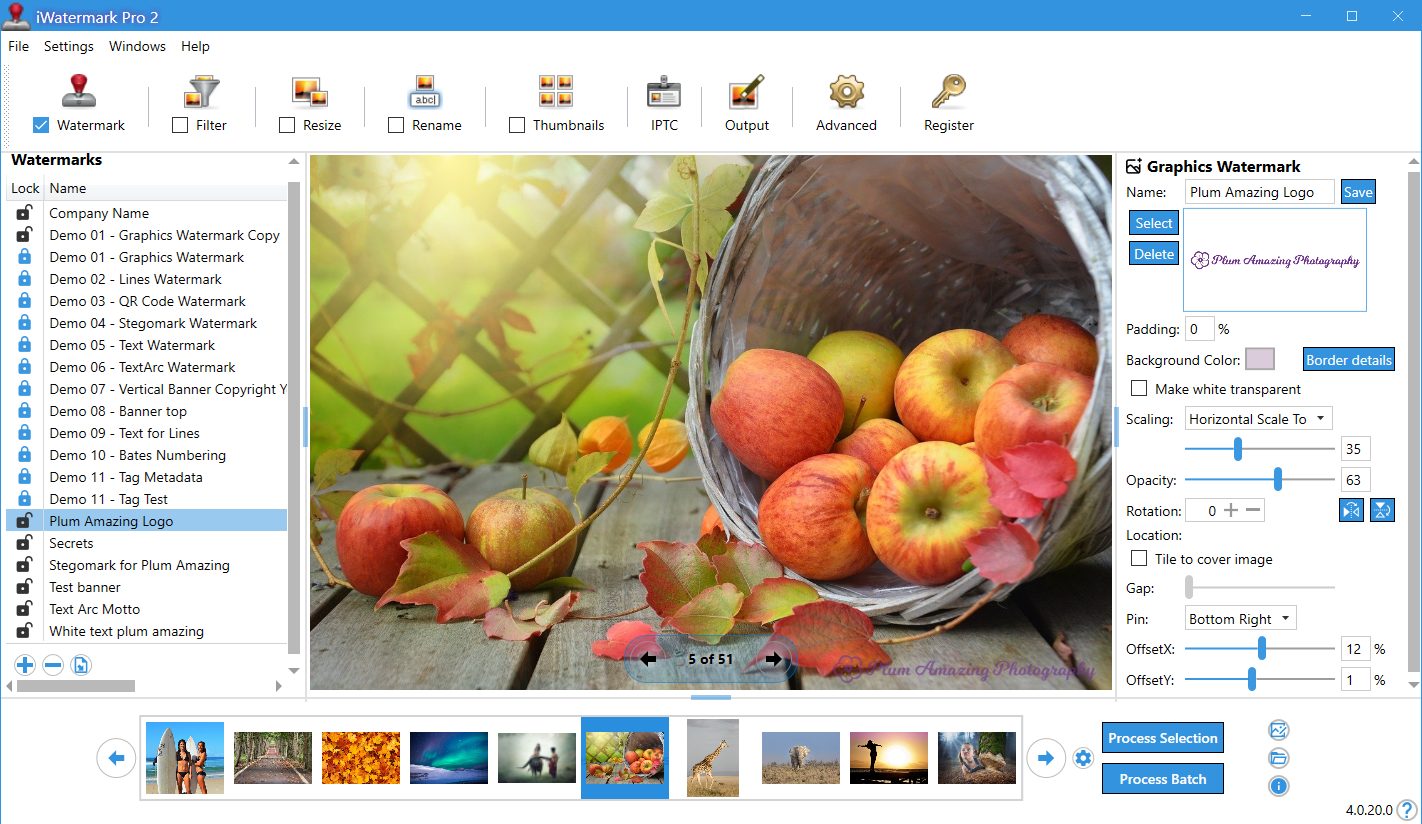 The Watermark Types in iWatermark Pro 2
Most watermark apps can do a text watermark and a few have a graphic watermark. iWatermark takes it a lot farther and has 8 watermark types. Each type serves a different purpose. Each type can be customized in millions of ways.
Type
Icon
Visibility
For
Description
Text
Visible
Photo&
Video
Any text including metadata with settings to change font, size, color, rotation, etc.
Text Arc
Visible
Photo&
Video
Text on a curved path.
Banner
Visible
Photo&
Video
Banner places rectangle on top, bottom or any side with text.
Bitmap Graphic
Visible
Photo&
Video
A graphic is usually a transparent .png file like your logo, brand, copyright symbol, etc. To import.
Lines
Visible
Photo&
Video
Can be adjusted to display in many ways.
Used by many Stock Image photo companies.
QR Code
Visible
Photo&
Video
A kind of barcode with information like email or url in it's coding.
Metadata
Invisible
Photo&
Video
Adding information (like your email or url) to the IPTC or XMP part of the photo file.
StegoMark
Invisible
Photo&
Video
StegoMark is our proprietary steganographic method of embedding information like your email or url into the picture data itself.
"Bottom Line: If you are looking for a way to watermark your graphic material on the web, we recommend iWatermark+."– Nate Adcock, iPhoneLife Magazine 1/22/15
Features
All Platforms
Native apps for iPhone/iPad, Mac, Windows and Android
8 types of watermarks
Text, graphic, QR, signature, metadata and steganographic.
Compatibility
Works with all cameras, Nikon, Canon, Sony, Smartphones, etc.
Batch
Process Single or batch watermark multiple photos simultaneously.
Metadata Watermarks
Create watermarks using metadata like author, copyright and keywords.
Steganographic Watermarks
Add our proprietary invisible StegoMark watermarks to embed info in a photo
QR Code Watermarks
Create in app QR codes with url, email or other info to use as watermarks.
Text Watermarks
Create text watermarks with different fonts, sizes, colors, angles, etc.
Graphic Watermarks
Create graphic or logo watermarks using transparent graphic files.
Watermark Manager
Keep all your watermarks in one place for you and your business
Signature Watermarks
Use your signature as a watermark just like the famous painters
Multiple Simultaneous Watermarks
Select and apply multiple different watermarks on a photo(s).
Add Metadata
Watermark using your copyright, name, url, email, etc. to photos.
Watermark Drawer
Select one or a number of watermarks from the drawer.
GPS Location Data
Maintain or remove GPS metadata for privacy
Resize Photos
In both the Mac and Win versions photos can be resized.
Fast
Uses GPU, CPU and parallel processing to speed watermarking.
Import & Export

JPEG, PNG, TIFF & RAW

Protect Photos
Utilize many different watermarking techniques to protect your photos
Warn Thieves
A Watermark reminds people that a photo is someones intellectual property
Compatible
with apps like Adobe Lightroom, Photos, Aperture and all other photo browsers
Export Watermarks
Export, backup and share your watermarks.
Special Effects
Special effects for pre and post processing of photos
Multilingual
Watermark in any language. Localized for many languages
Position
Control Absolute Position
Watermarks can be adjusted by pixels.
Position
Control Relative Position
For same position in batches of photos of different orientations and dimensions.
Share
Share via email, Facebook, Twitter and other social media sites.
Rename
Photo Batches
Set up a workflow for renaming batches of photos automatically.
Tap for full size
Major Features
Batch watermark entire folders of images at once.
Use many watermarks simultaneously (Pro only).Import/Export/Share watermarks you create (Pro only).
Scale all your images to be the same size.
Creates thumbnails of your watermarked images.Use text, TIFF or PNG logos for your watermarks.
Set the transparency of your watermark.
Rotate, scale, and place your watermark, anywhere on your picture.
Use special effects such as aqua, shadow and/or emboss on your watermark.
Preserve the metadata captured with the image, such as EXIF, IPTC and XMP.Input and Output your watermarked image into a variety of different image formats.
Less expensive, more efficient, faster and simpler to use then PhotoShop. iWatermark is exclusively designed for watermarking.
Create and use QR codes (like barcodes) as watermarks (Pro and iPhone/iPad only).Use built in Creative Commons watermarks (Pro only).
Set location watermark by x,y which insures your watermark appears in the same place no matter what size or resolution the images are.
Too many features to list. Download to try it out free.
Why Watermark?
If you share an amazing photo you've taken via Email, Facebook, Instagram, Twitter, etc. it's very likely to go viral then they fly off globally out of your control and without any connection to you as the creator. But digitally sign your work/photos/graphic/artwork using iWatermark with your name, email or url and your photos have a visible and legal connection to you wherever they go.
Build your company brand, by having your company logo on all your images.
Avoid the surprise of seeing your artwork elsewhere on the web or in an ad.
Avoid the conflicts and headaches with plagiarists who claim they didn't know that you created it.
Avoid the costly litigation that can be involved after that.
Avoid intellectual property squabbles.
Visible vs Invisible
Some watermarks are visible and others invisible. Both serve different purposes.
A visible watermark is where you superimpose your logo or signature onto your image.
An invisible watermark is hidden throughout the picture, within the code that generates it, is a recognizable pattern that identifies it as being your artwork.
This technique is usually far more expensive and has two major drawbacks. It almost always reduces the quality of the picture, and it may encourage people to copy your work because it does not appear to be copyrighted. In both cases, a skilled graphic designer intent on using your image, can find ways to remove your watermark at a cost to the quality of the image.
We feel that when you watermark photos it serves 2 purposes.
1. It lets people know this is not just a loose photo avaiable for any use.
2. It can contain your information. Like name, email, site, whatever you want to display so people can contact you.
iWatermark is an Official Sponsor of:

Comparison
Comparison of iWatermark Pro or Mac/Win and iWatermark+ for iPhone/iPad/Android
All versions of iWatermark are written in the native language for that OS. Mac and Win have similar features since they are both desktop systems. The 2 mobile OS versions iOS and Android have similar features to each other.
| | | |
| --- | --- | --- |
| iWatermark Features | On iOS and Android | On Mac and Windows |
| Download | iOS                      Android | Mac                  Windows |
| Maximum Number of Photos | Unlimited (based on memory) | Unlimited (based on memory) |
| Simultaneous Watermarks | Unlimited | Unlimited |
| Speed | 64 bit (Very fast) | 64 bit (Faster) |
| Parallel Processing Aware | Multi-thread uses multiple CPU/GPU's | Multi-thread use multiple CPU/GPU's< |
| AppleScriptable (Mac Only) |  – | Yes, includes scripts and script menu |
| Shell Extension for Win Explorer |  – | Right click to apply watermarks direct. |
| Color Profiles |  – | Uses existing and selectable profiles |
| Output Folder | Uses Available Export Extensions |  folder output settings |
| Input File Types |   | RAW, JPG, PNG, TIFF, GIF, DNG, PSD |
| Output File Types | jpg | jpg, png, tiff, psd, bmp, jpeg 2000, clipb |
| Resizing Photos |   | 6 major options |
| Import Watermarks | On iOS, Coming for Android | Yes, from Mac or Win version |
| Export Watermarks | On iOS, Coming for Android | Archive or share to Mac or Win version |
| Edit Watermarks | Advanced (many more features) | Advanced (many more features) |
| Watermark Drawer | Organize, edit, previewing | Organize, edit, lock, previewing, embed |
| Create Watermark Droplet | – | Creates dedicated watermarking app |
| Metadata (XMP, IPTC) | IPTC | XMP and IPTC Extended |
| Add/Remove Metadata | IPTC/XMP/GPS | IPTC/XMP/GPS |
| Embed Metadata in Watermark |  IPTC/XMP/GPS | IPTC/XMP/GPS |
| Metadata Tags as Watermarks | IPTC, Tiff, File Attributes, Exif, GPS | IPTC, Tiff, File Attributes, Exif, GPS |
| Effects | Many | Many |
| Watermark Location | Set by dragging and pinning. | Set by dragging and pinning. |
| Scale Watermark | Actual, horizontal and vertical | Actual, horizontal and vertical |
| Text Watermark Formatting | font, size, color, rotation, transparency, shadow, border | font, size, color, rotation, transparency, shadow, border |
| Background | color, opacity, scale, border, shadow, rotation | color, opacity, scale, border, shadow, rotation |
| Help | Online, contextual and detailed | Online, contextual and detailed |
| QR Codes as Watermarks | Create QR codes use as watermarks | Create QR codes use as watermarks |
| Creative Commons Watermarks | – | Easily adds any CC watermark |
| Quick Look Plugin | – | Displays exported watermark info |
| Works with all Photo Browsers | yes | yes |
| iPhoto Plugin | – | Watermark direct in iPhoto |
|   |   |   |
|   |   |   |
| Price | Free, $1.99 and $3.99 versions iTunes/Google Play | Shareware |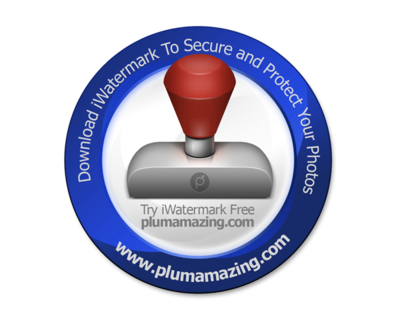 Reviews
"iWatermark Pro is by far the most feature-packed watermarking software I reviewed, and it has a number of features that I didn't find in any other program." – The Best Watermarking Software 2018 – Thomas Boldt
iPhone/iPad/iOS for iWatermark. More then 1500 5 star reviews on iTunes Apps store.
7/15/16 Review by GIGA in German
Compendium of reviews on Tumblr
"Got Photos? Put A Watermark On Each To Claim Your Copyright" – Jeffrey Mincer, Bohemian Boomer
Italian magazine SlideToMac
SMMUG Review of iWatermark Pro by L. Davenport
Very thorough review in Swedish for iWatermark Pro. Henning Wurst. Read entire article

"It is a good application for its primary purpose, merging a visual watermark into your digital images, and it accomplishes this job easily and with some great additional features to make your life easier."
Chris Dudar, ATPM
Read entire article

"If you need to add watermarks to a lot of images, iWatermark provides a big bang for your buck. It not only succeeds admirably at its core task, but it adds several other valuable timesaving features to the package."
Jay Nelson, Macworld, 4.5 of 5 mice.
Read entire article 

"The beauty of iWatermark is its combination of ease of use and functionality. If you've ever wanted to give watermarking a try, or if you're already doing it and you'd welcome a way to do it quickly and easily, iWatermark is an inexpensive and impressive utility. I've yet to see a better solution than Script Software's $20 iWatermark."
Dan Frakes, Macworld
Read entire article
Image copyright software that protects one or a ton
"This simple-looking product sports a lot of features and supports almost every conceivable file type. A very simple, clean, drag-and-drop interface works beautifully and just requires a few preference adjustments to place your mark on your work. Additionally, the software supports Exchangeable Image File (EXIF) and International Press Telecommunications Council (IPTC) preservation code.
There are some other watermarking shareware items out there, but none are this comprehensive and offer support with the IPTC format."
Daniel M. East, Mac Design Magazine, Rating:
"How can you protect your pictures? Plum Amazing has an inexpensive ($20) and simple solution: iWatermark. It's a breeze to use. Just drag a single picture or a folder full of pictures to the IWatermark screen to tell it what images to watermark, then specify the watermark text, like "© 2004 Dave Johnson. Here's where the program really gets good: You can specify a watermark image instead of text. That means you can put a small picture of yourself in the corner of the image if you like. Then set a watermark location–such as a corner or the center of the frame–and let it rip."
Dave Johnson, PC World
Macsimum News review gave it a 9 out of 10 stars.
PDF of Digital Camera Magazine Article
Comparison of Visible (iWatermark) and Invisible (DigiMark) watermarking
Cnet Download 5 mice
Users Rave
"One think I like about your product is that the placement of the watermark is based on a percent of the picture side, not a specific number of pixels. Whey is that significant? I shoot with a 24.5MP camera and several 12MP cameras. If I want my watermark close to the bottom of the picture with the other products I have to tell them how many pixels. If I work with a 24.5MP picture the number of pixels I want the picture away from the bottom is going to be different compared to a 12MP picture. You app uses % of the size. I can run you app on two very different sized pictures and the placement of the logo will always be the same. I think that is a good selling point."
Scott Baldwin – scottbaldwinphotography.com
"As a pro surf photographer trying to break into getting my photos published, iWatermark has been the best $20 I have ever spent! Everyone wants you to email photos to them but it was so time consuming to add watermarks manually to adjust to vertical and horizontal formats. I tried using Photoshop Elements batch processing. Too complicated to do it in PS5. This program has saved me sooo much time to quickly watermark a folder of photos and send it off to various publishers."
Diane Edmonds – YourWavePics.com
"I have spent ages trying various software to enable me to watermark my pictures, I found yours after days of trying various types but yours is with out doubt the easiest and most cost effective I have come across, thanks for an excellent product, top class"
Peter Kearns – www.pfphotography.co.uk
"I have been using iWatermark for a while now and love it. Last year I lost alot of sales, due to families downloading wallet sized pictures from my site. This year I have been using iWatermark and my sales have gone up. People don't want to see copyright info right in the middle of the picture. It is a great product, great price and best of all EASY to use. Thanks for helping me protect my product! Peace,"
Chris, Action Digital Photography
"your program has just been an awesome help to me. I regularly put my wedding, event and portrait photography on eventpix.com. It has helped to stop unauthorized use of our work and I sure thank you for that. We were happy to pay for a great program."
Jon Wright, J&K Creative! – http://www.artbyjon.com
"I list houses on craigslist for rent and got some of my pics hijacked BEFORE I bought iWatermark. Now the fraudsters pick another target since my web site is plastered on the pic!"
Southpaw Steve
Input
RAW
JPEG
TIFF
PNG
Photoshop (Requires Quicktime)
PICT (Macintosh Only)
BMP
GIF
DNG
PSD
Output
RAW
JPEG
PNG
PICT (Macintosh Only)
BMP (Windows Only)
TIFF
PSD
JPEG2000
clipboard