iWatermark+ for Android – #1 App To Watermark Photos & Video
Subtle Watermarks That Protect Your Photos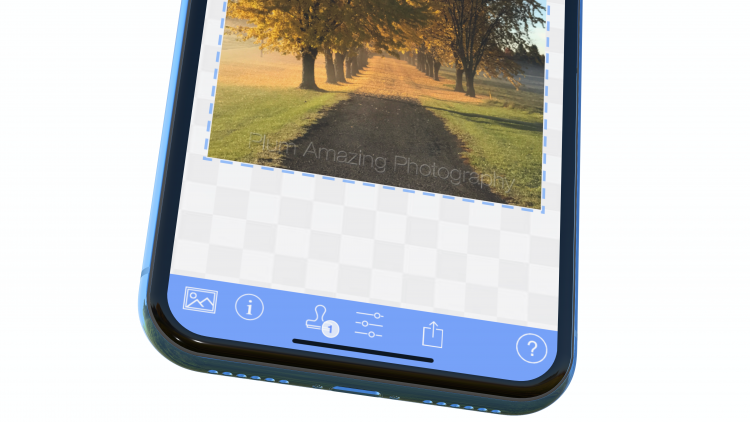 More Watermark Types Than Any Other App
For the past 2 decades iWatermark has been the most popular multi-platform tool available for Mac & Windows as iWatermark Pro & on iOS/Phone/iPad & Android as the apps iWatermark and iWatermark+. iWatermark lets you add your personal or business watermarks to any photo or video. Once added this watermark displays your creation and ownership of this photograph or artwork.
Interview by

about iWatermark+ for Android – 1/14/23
What is iWatermark? iWatermark is software that allows a new kind of watermarking. It uses a variety of visible & invisible digital watermarks to connect the photo with it's creator.
Who is iWatermark for? Every person who takes photos & videos. We've been told it is essential for photojournalists, pro photographers, and people who use Instagram, Facebook and other social media sites.
Why is it essential? Because it allows photographers to promote their photos to the max while preventing losing control and connection as the photos author. Now when a photo is shared the author/photographer can continue to be known and credited.
In the video below hear Terry White, Principal Worldwide Design & Photography Evangelist for Adobe Systems, talk about how he uses iWatermark+ with Lightroom.
iWatermark is Unique in Many Ways:
✓ Available on all 4 platforms iOS, Mac, Windows and Android.
✓ It is both a regular app and an photo editing extension that can watermark directly within Apple's Photos and other apps.
✓ Use one or multiple watermarks simultaneously on a photo or photos.
✓ Watermark videos with any of the 7 visible and 1 invisible = 8 total watermark types.
✓ Watermark photos with any of the 9 visible and 2 invisible = 11 total watermark types.
✓ Watermark 1 or multiple photos in a batch.
✓ Live interactive adjusting of effects like tint, shadow, font, size, opacity, rotation, etc.
✓ Live preview of watermark(s) on a photo before processing.
✓ 242 custom and 50 Apple fonts = 292 great fonts built in and ready to use for text watermarks.
✓ Over 5000 professional vector graphics especially for phototographers.
✓ Save all created watermarks to turn on/off, reuse, export and share.
✓ 11 kinds of watermarks. 6 watermarks are unique & exclusive to iWatermark (see below).
We consider everything you do to customize a photo, to make it your own, a watermark. In the past watermarks were invented and used to ID items like stamps, currency, banknotes, passports and other official documents. Nowadays, in the same way, digital watermarks infuse your identity and style into your photos and videos. The photographer Ansel Adams had a distinctive style that marks his photos, just as the unique painting style of Monetmarks his paintings. Ansel Adams used black and white, clarity, contrast, huge, unpopulated, and majestic landscapes as his signature even though he also signed his work. Like the great photographers and artists you can style your work so that it is not only beautiful and recognizable but also helps protect your creations. This is why we see each of the items below even metadata, stegomark, resize and filters as watermarks because they can imbue a photo with your particular style.

The iWatermark+ 11 Unique Types of Watermarks
Type
Icon
Visibility
Apply on
Description
Text
Visible
Photo&
Video
Any text including metadata with settings to change font, size, color, rotation, etc.
Text Arc
Visible
Photo&
Video
Text on a curved path.
Bitmap Graphic
Visible
Photo&
Video
A graphic is usually a transparent .png file like your logo, brand, copyright symbol, etc. To import.
Vector Graphic
Visible
Photo&
Video
Use over 5000 built-in vector (SVG's) to display perfect graphics at any size.
Border Graphic
Visible
Photo&
Video
A vector border that can be stretched around an image and customized using a variety of settings.
QR Code
Visible
Photo&
Video
A kind of barcode with information like email or url in it's coding.
Signature
Visible
Photo&
Video
Sign, import or scan your signature into a watermark to sign your creations.
Lines
Visible
Photo&
Video
Adds consistent and symetric lines of differing width and length.
Metadata
Invisible
Photo (jpg)
Adding information (like your email or url) to the IPTC or XMP part of the photo file.
StegoMark
Invisible
Photo (jpg)
StegoMark is our proprietary steganographic method of embedding information like your email or url into the picture data itself.
Resize
Visible
Photo
Change the size of a photo. Particularly useful for Instagram
Custom Filters
Visible
Photo
Many filters that can be used to stylize a photos look.
Export Options
Visible
Photo&
Video
Choose export options for formats, GPS and metadata
Why iWatermark?
Photos from cameras are anonymous. When you take a photo and share it, your friends share it, then their friends, then total strangers. Each time it has less and less and eventually no connection to you. To the rest of the world your photo is 'creator unknown'. Many a great photo has gone viral (become wildly popular) that lacked any clue to the owner's identity. That means, without any way for others to give acknowledgment, thanks or payment to the owner. The solution to this problem is iWatermark, whose purpose is to infuse your photos with your identity in a variety of ways, visible and invisible. The technologies in iWatermark and the 11 watermark tools help you to sign, personalize, stylize, secure and protect your photos.
iWatermark on the surface may seem somewhat similar to graphic apps like PhotoShop but iWatermark takes a significantly different angle. iWatermark is designed to process one or many photos with a variety of watermarking tools, all constructed for a unique purpose, to suffuse each of your photos with your identity as a photographer.
– Digitally sign your photos/artwork with iWatermark to claim, secure and maintain your intellectual property and reputation.
– Build your company brand, by having your company logo on all your images.
– Avoid the surprise of seeing your photos and/or artwork elsewhere on the web or in an ad.
– Avoid the conflicts and headaches with plagiarists who claim they didn't know that you created it.
– Avoid the costly litigation that can be involved in these cases of misuse of ip.
– Avoid intellectual property squabbles.
Using iWatermark and one or more of the 11 different watermarks types can help protect photos and get photographers the credit they deserve.
Features
All Platforms
Native apps for iPhone/iPad, Mac, Windows and Android
8 types of watermarks
Text, graphic, QR, signature, metadata and steganographic.
Compatibility
Works with all cameras, Nikon, Canon, Sony, Smartphones, etc.
Batch
Process Single or batch watermark multiple photos simultaneously.
Metadata Watermarks
Create watermarks using metadata like author, copyright and keywords.
Steganographic Watermarks
Add our proprietary invisible StegoMark watermarks to embed info in a photo
QR Code Watermarks
Create in app QR codes with url, email or other info to use as watermarks.
Text Watermarks
Create text watermarks with different fonts, sizes, colors, angles, etc.
Graphic Watermarks
Create graphic or logo watermarks using transparent graphic files.
Watermark Manager
Keep all your watermarks in one place for you and your business
Signature Watermarks
Use your signature as a watermark just like the famous painters
Multiple Simultaneous Watermarks
Select and apply multiple different watermarks on a photo(s).
Add Metadata
Watermark using your copyright, name, url, email, etc. to photos.
Watermark Drawer
Select one or a number of watermarks from the drawer.
GPS Location Data
Maintain or remove GPS metadata for privacy
Resize Photos
In both the Mac and Win versions photos can be resized.
Fast
Uses GPU, CPU and parallel processing to speed watermarking.
Import & Export

JPEG, PNG, TIFF & RAW

Protect Photos
Utilize many different watermarking techniques to protect your photos
Warn Thieves
A Watermark reminds people that a photo is someones intellectual property
Compatible
with apps like Adobe Lightroom, Photos, Aperture and all other photo browsers
Export Watermarks
Export, backup and share your watermarks.
Special Effects
Special effects for pre and post processing of photos
Multilingual
Watermark in any language. Localized for many languages
Position
Control Absolute Position
Watermarks can be adjusted by pixels.
Position
Control Relative Position
For same position in batches of photos of different orientations and dimensions.
Share
Share via email, Facebook, Twitter and other social media sites.
Rename
Photo Batches
Set up a workflow for renaming batches of photos automatically.