Replace Apple's aged time app in the menubar with modern time management tools to enhance productivity. iClock has a drop down menu of the current time/date in any city/timezone in the world. View time & date simultaneously in any format, font or color, instant tiny menubar calendar (Google or Apple), stop watch, countdown clock, moon phase, floating clocks, local ip, date difference calculator, application menu, alarms, global scheduler and 'Take 5' (like a Pomodoro timer) to remind you to take a break once in awhile as you work.
"Clock Pro is truly 'the Essential Mac Menubar Clock'. It is described as 'A time hub which replaces the Mac OS X clock with many more useful menus, options and applications that everyone can use in day to day life.' That really is a very significant understatement. It is truly amazing all of the features included in the program, many of which I didn't even know that I needed, but now won't live without! My daily Mac use is now much improved, well worth this small investment in productivity."
– Tom Piper, AppleJac – 3/25/15
"This is a fantastic program."
– Leo Laporte on MacBreak 261
"iClock saves time! Once again I've snagged an invaluable tool from Plum Amazing. iClock elegantly offers just the right balance of functionality and features. No digging – no bloat; just a wonderfully simple tool to help manage my clock, my time, my Mac."
– Rand Miller, Co-creator of Myst and Riven
Your Apple Mac OS X Clock
 Only Gives you the Time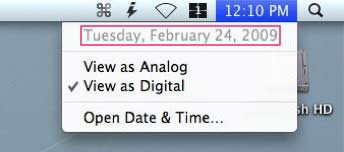 Click every day to see the date? Boring!
Thats all the old Mac clock does !
Or you can use The New iClock Pro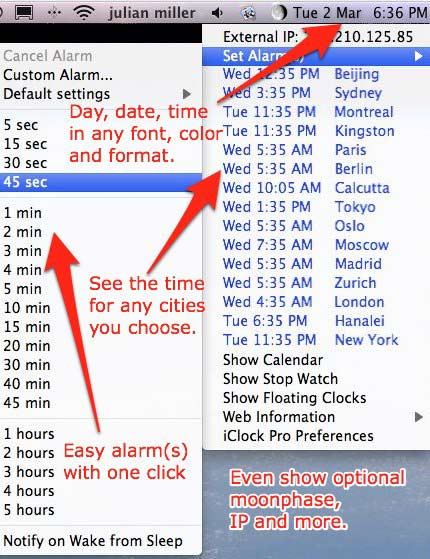 Thats just the start

 Customize the menubar time.

 Change the font.

 Change the color.

Add moonphase or an analog clock.

Command drag to rearrange the location of the menus (time, date, app menu, etc.).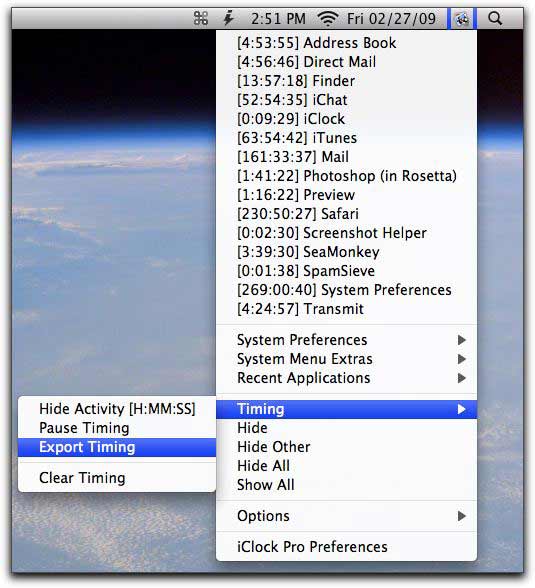 iClock Pro adds an application menu which allows:
1. See all running applications and switch to any one.
2. See how long you have been using any application.

Countdown till event timer.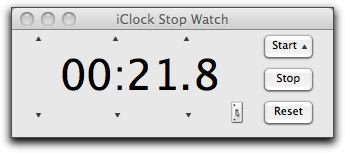 Stopwatch which can countdown, countup and which is customizable in many ways.