Overview
Easy access and view of Google or Apple Calendar, straight from the menubar. Add events, reminders, lots of options. It can show multiple months, use custom calendars, show holidays from many countries and multiple personal/business calendars.
TinyCal has many useful features.
Apple Calendar instantly view mini calendar & access from the Mac menubar
Google Calendar instantly view mini calendar& access from the Mac menubar
Support for Google Calendar Gadgets
Configurable month display
Configurable event display
Custom calendars
Tear-away menu
Growl reminders
Create and delete events
Hot keys
ISO 8601 week numbers
Secondary calendar overlay
Many options
Requirements
TinyCal requires Mac OS X 10.9 or later. Google Calendar integration is provided by the Google.
Showing Multiple Months
TinyCal can be customized to show 1, 2, 3 or 12 months at one time. The display can be arranged as tall or wide.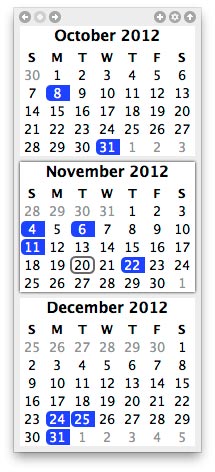 Google Calendar
TinyCal can display public Google Calendars for holidays for 40 different countries, from Australia to Vietnam. It can also display events from your personal Google Calendar. The following screenshot shows holidays from the USA in blue and a personal calendar in red.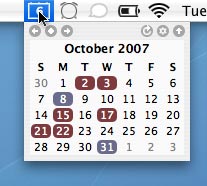 Custom Calendars
TinyCal can be customized to show other calendars, such as Buddhist, Hebrew, Islamic, and Japanese. The following screenshot show the Hebrew calendar with Jewish holidays.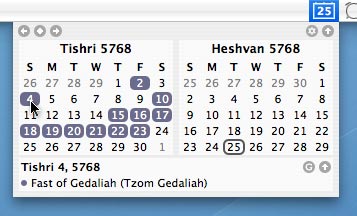 Tear-Away
The TinyCal window is a tear-away menu that can be repositioned anywhere on the screen.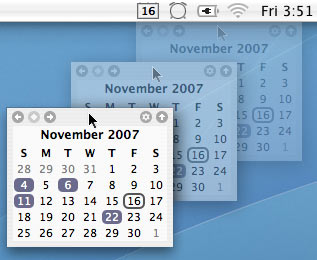 Today's Events
In the TinyCal window, today's date is circled. In addition, if there are any events occurring today, they are reflected in the menubar icon. In the following screenshot, the blue triangle in the lower right indicates that there is an event today.

Controls
The basic controls are illustrated in the screenshot below.