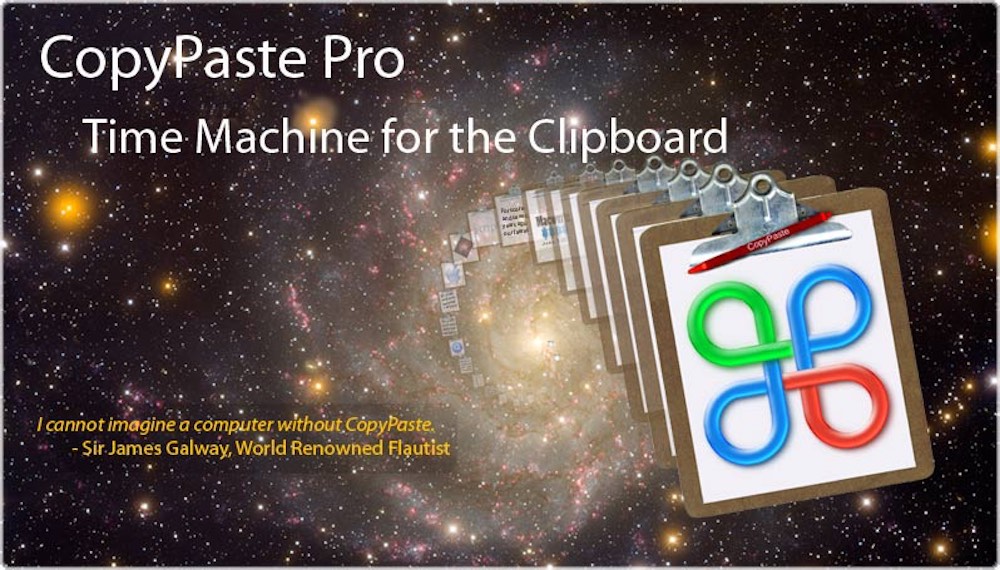 The first (released in 1997) and most popular multiple clipboard utility to display, archive and edit clipboards. 
Time machine for the clipboard. 
See and edit any clip in your history of copies or store copies in the more permanent clip archives. Save multiple clipboards through restarts. Increibly useful, time saver, life saver for all Mac users. The best clipboard app.
CopyPaste Pro is one of the apps that I consider INDISPENSABLE to my workflow. Julian Miller is VERY responsive and helpful! I'd strongly recommend this app and Plum Amazing!
CopyPaste Pro. This application works quietly in the background, always ready to be called upon, and I use it daily. It saves me a great deal of time. Do yourself a favor and download this essential application.
"CopyPaste Pro: A power clipboard for the power OS X user. Want faster and far more efficient editing? You need CopyPaste Pro for OS X. The improvement in speed when you have repetitive edits to do is amazing. This is definitively a power tool for the power user and gets a Gearhead rating of 5 out of 5."
Take a look at one of my favorite Mac utilities. It's called CopyPaste Pro. It's a multiple clipboard manager. That means anything you cut or copy gets stored in a library so it can be pasted again later without having to find it and copy it again. That is a huge time saver.
Ich muss mich eigentlich fast selbst über mich selbst wundern, dass ich diese Software noch nicht eher gefunden und im Einsatz hatte. Mittlerweile kann ich mir schon gar nicht mehr vorstellen, wie ein Mac ohne diese App "funktionieren" soll. Also ich gehe jetzt mal von meinem "Arbeits-Mac" aus, an dem ich den ganzen Tag sitze und erst da spiel die Software ihren Nutzen so richtig aus. Im Gegenzug dazu hab ich noch ein etwas älteres MacBook Pro und da fehlt mit die Software überhaupt nicht. Seltsam nicht. 😉 Aber wie in der Überschrift schon angedeutet: "CopyPaste Pro ist sowas ähnliches wie eine TimeMachine für die Zwischenablage." Ich glaube dieser Satz beschreibt kurz und bündig, was die Software leisten kann.
"There is not a day goes by that I do not make use of Copy Paste. Thanks again for a superb utility."
"CopyPaste Pro is an example of a very flexible application because, unlike other productivity applications, it has so many different uses. The developers have improved on such a basic computer function and the results are genius. The developer of CopyPaste Pro, Plum Amazing, seems to demonstrate this in its other programs – taking simple system programs and pumping them full of oomph and extra features. CopyPaste Pro has really helped me save time and it is a joy to use – simplistic and feature-rich. Some people may think, however, that the retail price of $30 for the program is a little too much to spend on just a simple utility but you'll discover that once you get it, you'll wonder how you ever did without it."
CopyPaste Pro the best clipboard app for the Mac. CopyPaste Pro è l'utility più flessibile e potente tra quelle a disposizione sul mercato per fare anche l'impossibile con il copia e incolla: gestisce clip multiple, crea archivi di clip di testo anche editabili, fornisce access agli elenchi con palette flottanti, accetta il trascinamento direttamente da safari, non perde la memoria neppure dopo il riavvio del Mac.
"CopyPaste Pro is probably the most useful tool that you never knew you needed. Its indispensable features truly enhance the productivity of your day-to-day work."
"If You Could Only Have One Productivity Tool For Your Mac Then Choose CopyPaste Pro. CopyPaste Pro just sits in the background, waiting to be used, faithfully collecting and storing whatever you've copied or cut, ready to paste the items wherever you want. Despite the lengthy list of power features, the basics are enough to get you started and it's easy to setup and use. Someone called CopyPaste Pro Time Machine for your clipboard. While it doesn't look like Time Machine, it captures and stores pretty much anything you can copy on your Mac and makes it available any time in the future to be pasted."
"Essential utility for your Mac. Each time you copy something to paste somewhere else, the item you copy is held in the Clipboard. The problem with the Clipboard inside Mac OS X is it is build to handle just one item at once: wouldn't it be useful if you could pop several items in there, so you could paste them all into the same document or other project file without swapping between apps? With CopyPaste Pro, you can."
"Your "simple" app increases productivity for me by measurable amounts. As a musician, I feel empowered by immediate & increased choices. As a writer, I can see multiple edits, focused results."
Video Review by MacUpdate​
Installation on Mac OS 10.14, Mojave
CopyPaste - Installation, Clip History and Clip Archive​
CopyPaste - Clip Browser and Clip Palette
Users and Reviewers Rave about CopyPaste
First (

1997) Review Of The Earliest Multi-Clipboard Tool CopyPaste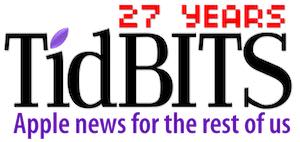 CopyPaste: A Scoffer No More
The spirit of CopyPaste is commendable, and – once you've experienced its utility – you can't fathom why it hasn't been built into the Mac OS System for years.
– Matt Neuberg, Review in TidBits, 2/3/1997
MacUser Awarded CopyPaste