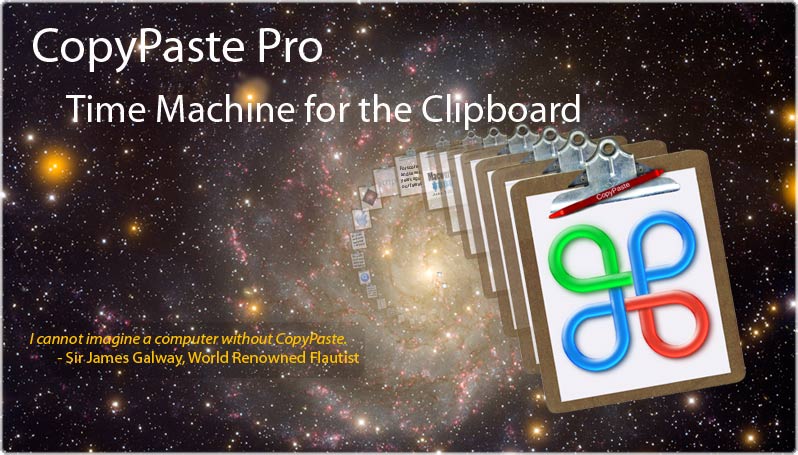 Time machine for the clipboard. The first and most popular multiple clipboard utility to display, archive and edit clipbords. See and edit any clip in your history of copies or in the more permanent clip archives. Save multiple clipboards through restarts. Increibly useful, time saver, life saver for all Mac users. The best clipboard app.
Video Review by MacUpdate
Installtion on Mac OS 10.14, Mojave
CopyPaste – Installation, Clip History and Clip Archive
CopyPaste – Clip Browser and Clip Palette
CopyPaste – Tools
Reviews
"CopyPaste Pro just sits in the background, waiting to be used, faithfully collecting and storing whatever you've copied or cut, ready to paste the items wherever you want. Despite the lengthy list of power features, the basics are enough to get you started and it's easy to setup and use.
Someone called CopyPaste Pro Time Machine for your clipboard. While it doesn't look like Time Machine, it captures and stores pretty much anything you can copy on your Mac and makes it available any time in the future to be pasted."
– Jack D. Miller, Mac360 12/5/14 (Link)
"The improvement in speed when you have repetitive edits to do is amazing. This is definitively a power tool for the power user and gets a Gearhead rating of 5 out of 5." – Mark Gibbs, NetworkWorld 6/17/14 (Link)
Take a look at one of my favorite Mac utilities. It's called CopyPaste Pro. It's a multiple clipboard manager. That means anything you cut or copy gets stored in a library so it can be pasted again later without having to find it and copy it again. That is a huge time saver. – Tera Thomas O'Brien , TeraTalks, 5/16/14 (Link)
When it comes to my Mac, most of the preaching you'd hear has to do with backups and a handful of essential Mac utilities; those little tools that do better than what Apple builds in to OS X. Here's one of the best. It'll make you more efficient, accurate, and productive, which will, in turn, make you a nicer person. CopyPaste. –  Jack Miller, Mac360 1/8/14 (Link)
"If You Could Only Have One Productivity Tool For Your Mac Then Choose CopyPaste Pro" – Jack Miller, Mac360 9/13/12 (Link)
"CopyPaste Pro is probably the most useful tool that you never knew you needed. Its indispensable features truly enhance the productivity of your day-to-day work." – Ben Harvell, MacLife 6/17/11 (Link)
MaCity Italian Blog 8/1/11 – CopyPaste Pro the best clipboard app for the Mac.
AppStorm Review 7/4/11 – James Cull 9 out of 10
"CopyPaste Pro is an example of a very flexible application because, unlike other productivity applications, it has so many different uses. The developers have improved on such a basic computer function and the results are genius.
The developer of CopyPaste Pro, Plum Amazing, seems to demonstrate this in its other programs – taking simple system programs and pumping them full of oomph and extra features.
CopyPaste Pro has really helped me save time and it is a joy to use – simplistic and feature-rich. Some people may think, however, that the retail price of $30 for the program is a little too much to spend on just a simple utility but you'll discover that once you get it, you'll wonder how you ever did without it."
"There is not a day goes by that I do not make use of Copy Paste. Thanks again for a superb utility." – Robert Towers