Overview
PhotoShrinkr takes .jpg format files, examines them and figures out the best way to compress and maintain the highest visual quality. While you can compress files in PhotoShop and other apps the compression vs visual quality won't be nearly as good as in PhotoShrinkr. This app was designed specifically to provide a quick and easy way to get best quality and highest compression. When you download it in it's shareware/free form it has all features and can be tested on 1…100…1000… files at a time. Maybe we said this already but it's really fast.
System Requirements
Mac
PhotoShrinkr requires Intel Mac OS X 10.6 – 10.9 or higher. Version changes info.
Windows
PhotoShrinkr runs on Windows 7, 8, and 10 in both 32 and 64 bit.
Purchase
Feel free to try out PhotoShrinkr. All features are enabled. The only difference between the free and paid version is a small watermark which looks like this.

This allows trying the app out, seeing how quick it is, how much space it saves and how it maintains the highest visual quality. PhotoShrinkr costs $15. Keep it as long as you want and when ready please go to our store to purchase. Thanks for supporting the evolution of this app. 
Upgrade
Upgrades are free for PhotoShrinkr owners. Just download and use.
Why use PhotoShrinkr Over Other Programs
Fast, uses all cores on the Intel chips used in the Mac.
Converts many image formats to jpg for highest compression.
Uses proprietary methods to analyse and optimize photos to save size.
Uses proprietary methods to analyse and optimize photos to maintain the highest visual quality.
Easy to use. Just drop photos into the left column.
Statistics displayed of amount of space saved in batch and all time total.
The before and after view visually displays the original file vs shrunk file so you can see in each case the actual visual quality of before and after.
Basically it is the fastest, easiest, highest quality photo shrinker available.
Quick Start Tutorials
This tutorial will guide you step by step in converting photos (any readable format) and optimizing photos in JPG image. 
JPG is the most popular image format for photos. It is a compression format.
IMPORTANT: PhotoShrinkr never deletes your original files. PhotoShrinkr copies your original file and optimizes it as JPG image. PhotoShrinkr never alters the original it always creates a copy.
By default a new PhotoShrinkr folder is created in your 'Pictures' folder. This is where all the compressed files are put. To open this folder easily just click the 'Output' button at bottom left and select a new folder. To change the folder to which files are saved, in the main window click on the 'Preferences' button and select a new folder.

4 areas of PhotoShrinkr window:
File List – drop image files here and copy of the image is optimized to the output folder.
Status area below the file list show current status and easy access to output folder and preferences.
Next to the Status and summary of EXIF metadata from cameras.
Above the metadata is preview of selected image with divider to see before and after optimizing.
Notifications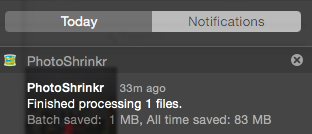 Notifications (seen above) appears in Notifications (click in the top right corner on the Mac) to display batch files you drop on PhotoShrinkr are finished. Notifications can be disabled in System Preferences:Notifications (seen below).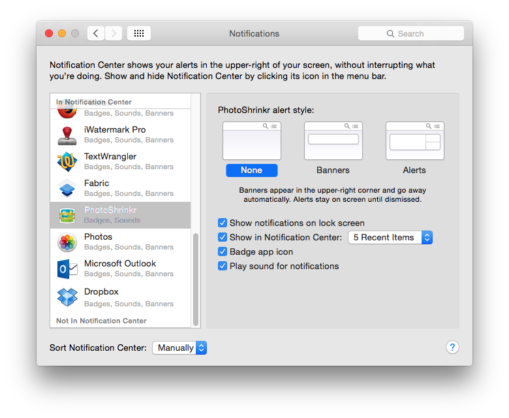 Preferences

Set Output Folder Button
Set the folder that optimized images are output too.
The default folder is: ~/Pictures/PhotoShrinkr/
Play sound when processing completes
Plays sound when a dragged batch of images is finished processing. This 
Logging
Keeps a log record of items processed and any errors.
Current log file is called: PhotoShrinkr History.log
If you turn logging off/on the old version is rename to
PhotoShrinkr HistoryYYYY.MM.DD HH.MM.SS.log
Menus  
Check for Updates
Allows you check for new versions of PhotoShrinkr. We recommend always using the latest version.
Help Menu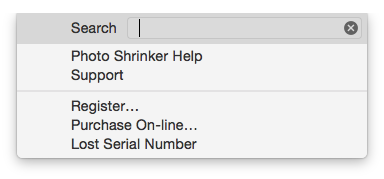 Search – Search thru the menu and Apple resources. Does not search the manual.
PhotoShrinkr Help – Opens the online manual you are in right now 🙂
Send Feedback – If you have suggestions/bugs you can report them here. 
Frequently Asked Questions  
Q: I am having a problem.
A: No matter what the problem is please follow these steps: 
FIRST: Go the advanced tab and hit the 'Reset defaults' button. This usually takes care of the problem which is that people forget that they made changes to various settings. Then try again.
SECOND: Open the program and under the PhotoShrinkr menu in the About menu item select that to see what version you are running and that it is the latest. Make sure you have PhotoShrinkr in your Application folder. If needed download the latest version of PhotoShrinkr from our site.
If you still have a problem then email us and send us this info:
Send us the photo you are using or a screenshot if you can see a problem.
Send us the console log. To do this open the console log hit the button on the advanced tab that says 'open console log'. Clear the console log then run PhotoShrinkr again to cause the problem then copy the resulting info in the console log and email it to us.
Q: I am having a problem registering. What should I do?
A: If you have any problem registering follow these steps:
Make sure you have PhotoShrinkr in your Application folder.
Manual Registration – From the registration email copy each item exactly making sure not to add extra spaces or carriage returns, then on the main screen hit the Register tab.
Tech Support
Online Support  – We always enjoy hearing from you.

The folks at Plum Amazing